How To Prepare for Windows Patching
wphungerford
There isn't much you need to do, as the end user, to prepare for Windows patching every week. However, it's important you take a couple of key steps so your computer is updated and protected from security vulnerabilities.
The goal with patching is to apply these updates with as little disruption as possible.
Every Wednesday night, please ensure your computer stays on and is connected to the internet.
If you want to go further and reduce the possibility of issues during the patching process, you can follow the steps below:
1. Make sure your computer is connected to the internet
2. Close all applications
3. Sign out of your user account on Windows by right-clicking the Windows icon, hovering your cursor over "Shut down or sign out" and selecting "Sign out"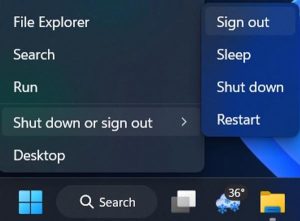 4. Leave your computer on
The final step is critical. If your computer misses the patches, you will be notified that the patches are ready to be applied the next time your computer is on. You'll have five opportunities to delay the patching, but after that, your computer will force a restart to apply the patches.
What Should I Expect When Patching?
The patching process is not perfect, and your computer could encounter issues after patching. Unfortunately, it's necessary to ensure the security of your organization.
Security is constantly changing, and Microsoft is attempting to keep up. Meanwhile, we are attempting to apply the patches as quickly as possible while being a buffer between
and your company to make sure they won't cause any new issues.
There will be problems. But as a managed service provider, we do our best to limit those problems, and no matter what, we are always here to help.
Protect Your Business with IT Services
If you have any questions about how to prepare for Windows patching or Windows patch management, Contact Hungerford Technologies.